What an amazing summer this has been! Much to keep up with, so every now and then we like to post some updates about what we have been up to as a "round up" of news. You can follow us on
facebook
, use the "networked blogs" feature,
twitter
, and look for photos and more on both the Crow profiles and on
Lynn's
pages. We have both a profile for Full Of Crow and a "page". First, the events: This summer was a busy time for events and readings, with our first Toxic Abatement event in San Francisco in July featuring both music and poetry, hosted by Paul and Lynn. Full Of Crow participated in the first Oakland lit crawl, also in July, with outstanding readers in leg two of the event. If you want to find out more about
Toxic Abatement
, the performers, view videos, etc. you can check out the site
here.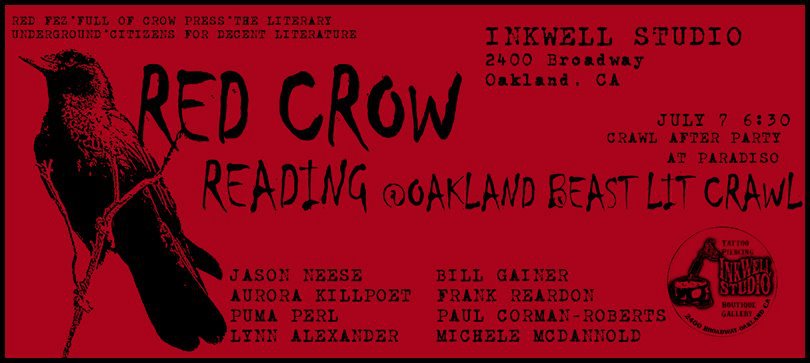 Many other readings and events, so be sure to check out the "readings" album on facebook where you will probably see people that you know! We spent a week in the bay area, with both new friends and old, and also included ZyFez II.
More events for Fall, including San Francisco's Litquake lit crawl, Anger Management, 100K Poets For Change, and Bitchez Brew Review with a new website unrolled recently here. In November there's Poetry Forum (Columbus, OH) Happy @#&% Endings, and Mothpocalypse in Albuquerque, NM. We'll make sure there are links on the sidebar to the websites for more details and updates, and of course photos and videos.
As always, we had July issues of Full Of Crow Poetry, Fiction, and Blink|Ink. We recently added the Summer issue of MiCrow, edited by Michael Solender. Look for links on the sidebar to these sections and feel free to get in touch with Lynn for Poetry, Paul for Fiction, Doug for Blink|Ink, and Michael for MiCrow.
Please support our poets, writers, artists, and projects by spreading the word.