We are trying to spread the word that Full Of Crow is again accepting submissions of poetry and fiction for new issues in April. We have been closed for almost a year, so it will take us time to reach out and connect with the writers and readers that we had in the past. Submissions will likely be slower. During the hiatus, we kept the lights on and the doors open, but needed a break from adding issues. We appreciate the understanding.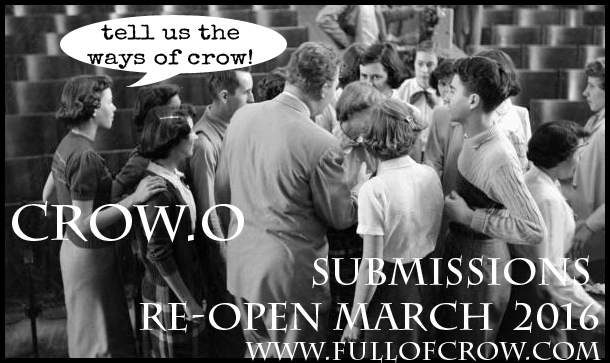 So if you are new to Crow, we produce four quarterly online issues per year of poetry, and four of fiction. They generally go online in April, July, October, and January. I (Elynn Alexander) edit the poetry and Paul Corman-Roberts edits the fiction. We might add a new person for ebooks and possible person to help with reviews but we will see how things go as we get back in the groove.
The fiction section can be viewed at:
Full Of Crow Fiction
and poetry at
Full Of Crow Poetry.
If you check out the links above, you will see a tab on "submissions".
Please support our poets, writers, artists, and projects by spreading the word.