We have been updating our facebook and twitter pages pretty regularly, mostly with links to the fiction and poetry in our issues. We have two pages on facebook: one is for the general
Full Of Crow Press
, and the
other is for poetry
with the original idea as the posting of poems from the archives. I have a page on facebook where I post event photos from readings, etc. and that is
here, Elynn Alexander.  (that is my page, not my profile, either one works.)
I also
have a twitter
, and
Full Of Crow has a Twitter.
If you feel so inclined, please "like" and follow so we can stay in touch and tag you in photos or links to your work. We Also participate in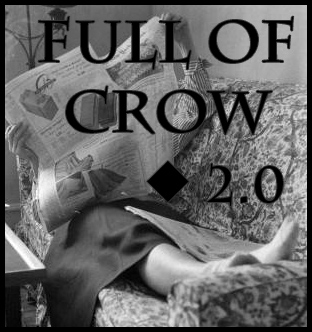 this "networked blogs" nonsense, but we aren't really sure if that is useful to people or if people still use it regularly. If you are on facebook and want to follow us that way, there should be a box on our front page sidebar that has "networked blogs" in there somewhere. The submissions page (above) has been updated, and things are coming back together. We hope to hear from some of you out there with poems and stories. There are links on the sidebar ----> and above. Get in touch if you have questions. elynn alexander@gmail.com
www.elynnalexander.com
or
the blog.
Please support our poets, writers, artists, and projects by spreading the word.