Info
Here.
Richard Brautigan was born in January, so it seems like a good time to roll out a new Brautigan project. Brautigan lived from 1935 to 1984, and was a part of the 1960's San Francisco counterculture scene. He handed out poetry on the street, performed with groups like The Diggers, he was a man described by Ferlinghetti as more in tune with trout than people... Brautigan was a damn freak in so many wonderful ways. Google him.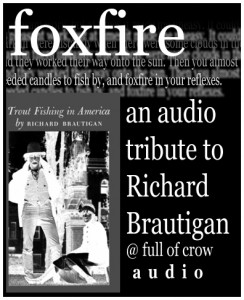 This project will collect submitted audio bits- poetry, shorts, improvised- into a collection of audio tracks that will be archived at Full Of Crow Audio and also made available to contributors on cds that can then be copied, and so on. No selling, no payment, no complexity, just a collection of audio in tribute to Brautigan, you can share the audio any way you want. These are the specifics: -We need about 15 contributors, depending on length, to contribute their mp3 tracks by email or cd. Send to Lynn Alexander at lynnalexander@fullofcrow.com. -Please identify the email as mp3 intended for FOXFIRE. Describe it. Who you are, etc. -Please get them sent by May, 2011. -This will be presented online along with art, text, bios, etc. so you can send the text of your work or bio information if desired. -Photography, art, other items welcome. Digital. This project is open to anyone, anywhere, and if you are interested but aren't sure how to proceed- just email and we can figure out a way to get you involved. Feel free to share the info to people who might be interested.  ~Lynn
Please support our poets, writers, artists, and projects by spreading the word.