This week at Full Of Crow, we are finishing up some upgrades and working on getting more event photos out there on the SM. And speaking of, we now have an Instagram that you can follow, with our typical artsy shit, weird photo angles, nostalgia, oddities, event flyers, and whatever else ends up there. Find us on there, twitter, facebook, all that and it will help us find and follow you. Support is the whole point, after all. Follow: 
Instagram
Twitter 
(check out the icons on our sidebar) We have published hundreds of poems, stories, photographs, and we have had events all over the country for eight years. We push because we all have to push one another. Who else is going to? This is our bus to drive, baby. Take the wheel.
What We Are Reading:
Elynn Alexander discusses Cord Moreski's latest poetry chapbook from Indigent Press in Full Of Crow's
review section
.
(Read Now)
 Cord is a poet from New Jersey, host of Poetry On Main in Asbury Park, and frequent performer. You can also find photos and event information on the
Lehigh Valley Poetry Collective page on Facebook.
Also on deck: Kendall A.Bell's "Trust Fall" and "Siberia", Chansonette Buck, a book project in response to the election, new issues of Fiction and Poetry, a feminist poetry reading hosted by Rag Queen, Paul Corman Roberts checks in on Crow West and bay area events, and new book launches. Plenty to keep us all busy. And zines. Did we mention zines?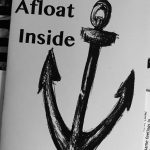 Please support our poets, writers, artists, and projects by spreading the word.