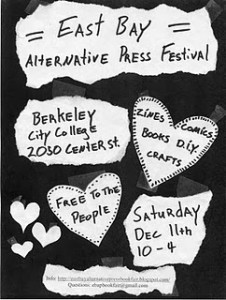 Saturday, December 11, 2010, Berkeley, CA. If you are in the Bay Area, mark your calendar and plan to head out in support of the alternative press: zines, independent publishers, diy, poets, writers, artists. Limited table space, but inquire:
link.
Confirmed: Confirmed Tablers
Petals and Bones
Endless Canvas
Laterborn
Curbsidetreasure
Rock Paper Scissors
Chintz and Friends
Soyfucker Comics
Crumblediamonds: Show Prints and Posters
Sparkplug Comic Books
Chance Press
Agent Agnes
Hannah Stouffer
Family Style
Dead fish graphics
Elena Lopez Photography
Little Black Cart
Rad Dad Zine
Full of Crow
Primazonia & Mars 1
Miliva Street Journal Boarding All Rows Force of Nature
Please support our poets, writers, artists, and projects by spreading the word.