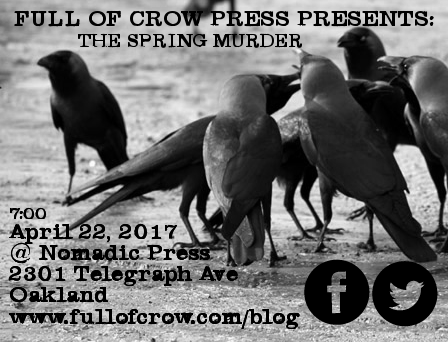 Celebrate with Full of Crow contributors in Oakland on April 22, 2017 at 7:00 pm at the Oakland headquarters of Nomadic Press.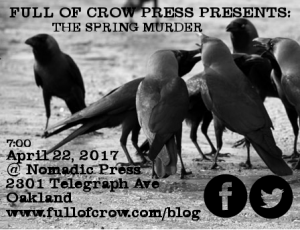 Nomadic Press is located at 2301 Telegraph Ave, Oakland. Paul Corman-Roberts hosts this series, and this event will feature the talents of: G. Macias Gusman -Nancy P. Davenport - Ruth Crossman - Richard Loranger - Barbara West - Steven Gray - Christine No - Norma Smith - Kristen Caven - Hannah Beatrix Rubin - Michael Mohr. Coffee and beverages will be served. You can find the Event on Facebook here: https://www.facebook.com/events/184579718712620
Please support our poets, writers, artists, and projects by spreading the word.