Please follow and like us: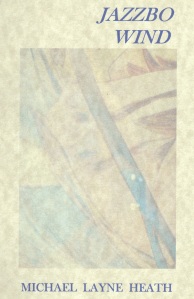 "Jazzbo Wind", by Michael Layne Heath, published by Kendra Steiner Editions, reviewed by Paul Corman-Roberts for Full Of Crow.
Michael Layne Heath's poetry is about nothing if not music.  An original Washington DC punk rocker expatriated to San Francisco, Heath has found himself a nice little home with Kendra Steiner Editions, a poetry press that has now also become, surprise, surprise, a music label as well.  KSE publisher Bill Shute has had a long standing commitment to independent rock and roll and literature, and he's got the writers to back up the commitment from the literary side of the enterprise with other rock  writers like A.J. Kaufman and Doug Draime.
Heath however, may be the most "Rock & Roll" of poets in the KSE house.  While the long periods of his life living hard and broke in pursuit of the glory of the literary and rock music lifestyles have been well documented in previous titles, his third and most recent title for KSE, "Jazzbo Wind" represents another significant step forward in his commitment to deeper poetry. Gone are the exploits of the fire breathing exploits of the street hustler (though they do get a nod in his poem "Golden Gate Park, 1992.") Instead, Heath opens the collection with a surprising quatrain which even rhymes on the B lines (& how often do we see that anymore?) romantically titled "The Last Testament of Charlie Nothing," quite literally a smart and satisfying pop song from a traditional rock writer.
But in between the bookend poems (the title poem concludes the chap) Heath digs deeper:
Look out honey
They're misusing technology
Too busy looking in their hands
To make nary an apology
Consider this then
My clawing out of the corner
I was forced into by your mediocracy
Consider this then
Your final notice
Your welcome mat heartily shredded
Your contact unwelcome
And overtures better off recycled
Like the a capracio scores of historical discord
For I altogether prefer
Sure shot poems from
Occasionally damaged but
Invaluable players
From "Out Lemons Out"
The most refreshing thing about Heath's poetry is that it's not afraid to be poetry, that is, it's not too cool to be poetry…which is actually the essence of real cool.  Heath praises other poets in the Bay Area; he touchstones on musical influences and genres, and yes, as pointed out previously, he rhymes.  It's poetry that is comfortable with itself as poetry, and this conceit forms a kind of freedom for the writer of such poetry, and Heath makes the most of it to tell his truth, which is easy to see as real and genuine.
An exchange of angry words, empty wine bottles
Rolling across scarce cubic feet of
Worn carpet, exposed varnish wood.
An emaciated frame, once termed consumptive
Franklin topiary skull, stunned afternoon drunkard
Sitting emotional yet mute amidst his archives.
In the car going home,
A new Rolling Stones song on the radio,
Resolved to burn creative writing notebooks,
Avoid corpuscular imperative;
Pick up a guitar, a microphone.
Take a safer, healthier path.
(It didn't last)
From The Bloodline of Words

In other words, Michael Layne Heath will always have roots as Rock & Roll poet, but his poetry has long since transcended that simplistic label.
Visit Kendra Steiner Editions here.
The following is from Bill Shute, for KSE, about "Jazzbo Wind" and Michael Layne Heath:
KSE is proud to announce the publication of the sixth poetry chapbook (his fourth for KSE) by San Francisco's MICHAEL LAYNE HEATH, "JAZZBO WIND" (KSE #185). Mr. Heath was one of the founding-fathers of punk-rock writing with his seminal VINTAGE VIOLENCE 'zine, covering the under-rated Washington DC area scene in the late 70′s, and then moving into the early 80′s he was a fixture at other 'zines of the day such as CAPITOL CRISIS and TRULY NEEDY. He's been one of my favorite writers for 30+ years, and he was one of the first authors I approached to join the KSE family.
Michael moved to San Francisco in 1992 and began taking his work to new levels as he moved into poetry, a perfect fit as his writing always had the specificity and detail and metaphor needed for verse. With the  musicality one would expect, a timelessly hip voice, a mastery of reference and allusion, and a gritty streetwise presence—along with a cynical wit and a unique ability to capture the delicious pain of longing and physical desire in a way that is neither cloying nor cliche-ridden—Michael's poetry is a breath of fresh air in today's phony poetry world of post-Bukowski losers and posers and pretentious academic pasticheurs.
Like Corso or Patti Smith, Heath often writes from a poet-finding-his/her-way-in-a-barren-world persona, on the hungry streets and in the seedy transient hotels of San Francisco, seeking transcendence through a cheap thrill, looking to score, looking to connect with a fellow member of the diaspora, his head full of ornate Nino Rota film soundtracks and trippy Jamaican dub, his stomach empty, his heart overflowing, paying for drinks with pocket change, selling his Kerouac books and Prince Far I albums to pay the overdue rent, wondering if that lanky, ponytailed, sandy-haired, jean-jacketed guy from the midwest at the other end of the bar notices him, and wondering how he can get busfare home…if indeed he goes home tonight.
Michael Layne Heath creates/evokes a rich sensory world in his poetry, and we readers share in the poet's insights, fears, and small pleasures. He's intimate without being confessional, and he always leaves a lot unsaid, so his work cries out for multiple readings and also begs to be read aloud and savored. JAZZBO WIND may be only an 8-page chapbook, but it's got far more content and far more depth than most 300-page books. Mr. Heath is, to me, one of the ten most essential poets writing in America today…no surprise that one of his earlier KSE chapbooks was listed as one of the ten best reads of the year (2007) in Arthur Magazine. This is a hand-assembled, hand-numbered edition of 67 copies, available for $5 postpaid ANYWHERE.