Please follow and like us: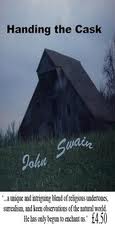 "Handing The Cask", poetry by John Swain, published by erbacce press, UK. Reviewed for Full Of Crow by Elynn Alexander.
I keep saying that John Swain is a poet to watch, and I have published as much of his poetry as I could get my hands on including "Burnt Palmistry" and "The Feathered Masks" as well as including two of his poems when I guest edited the September 2011 issue of Graffiti Kolkata Broadside. His work has been nominated for awards and prizes and has appeared in Red Fez, part of our small press family.
The late Nobius Black of Calliope Nerve stated that John Swain "paints the world in words." Sandy Benitez of Flutter Press said that "he has only begun to enchant us." And I couldn't agree more.
John Swain is a humble, reluctant artist who seems to shy away from the trappings of ambition and persona and somehow remains above all of that. It is this tendency that is part of his charm because it is refreshing, his work speaks for itself, and it reaches you without imposing. You want to let it in. In my opinion, some arrogance would be well deserved- but you won't find it. When I first started reading his work, I couldn't help but wonder: where the hell has this guy been? But every poet has their time, and here's hoping that we continue to hear more from him. 
His latest collection from UK-based erbacce press, Handing The Cask, is an assemblage of poems, many have appeared online but you will still want to get the book because you will likely revisit them, as I do. Swain's vibe is introspective, thoughtful, romantic, surreal, an exertion of unique descriptions and oddly coupled terms that together bridge the physical world with the ethereal:
Rain became another queen of the peak,
she tore at her breast to strengthen the young.
(Binding of Branches)
Twilight grants relief to the person I am seldom
like dogs emerge from burrows to scavenge
the elusive paths illuminated by absence,
I held a weathered limb to stable my ranging.
(The Offered Garments)
The frozen river kept the skeletons of horses
in a pyramid diamond
I knelt in my wound like the drowned rider
(Over the Broken Room)
Nature, rendered in her primal environment, beautiful and cruel, qualities found in the writings of one of my favorites, Annie Dillard. Swain is less apart from the physical world as he floats peripherally in transcendent verse, as he is rooted in the firmament of the landscape as it truly is, acknowledged and honored:
I turn the loose earth
searching the murmurs for presence.
(Epitaph Seven Years Past)
Nature is not apart, but of this realm, creatures the constituents and mesh of her dominion:  
The crows rejoice in their roost at the calm darkening. (Invocation on the Gravel)
Scattering of Migrations
At scattering of migrations
these blue movements flood
as every bird becomes the sky,
as every fish becomes a wave.
We rain
lit into the unceasing horizon
where sunset halves the world
in silhouette of man and woman.
The transient nature of physicality, and shared consciousness of mortality:
I was glad
my reflection vanished
(Queen Anne's Lace)
Inheritance
I fear for the unborn
and fear for the wild,
all that passed between us
will drift away.
And as glass beads fall
from around your neck, 
this fear is the extent
of our natural inheritance.
Handing the Cask is available now from erbacce, information here.