Please follow and like us:
'Dinosaur Ditch' is a new chapbook of poetry from CFDL Press, available now, by Tim Murray. Discussed on the Literary Underground by Elynn Alexander.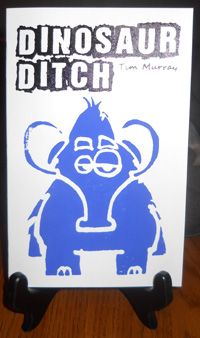 "Dinosaur Ditch" was the neighborhood lot of the speaker's childhood, a place where kids played and climbed trees and got away from their houses in a neutral, outdoor space.
"where boys spend summers pissing from trees
In Dinosaur Ditch."
Many kids can think back to a similar place in childhood and like Tim, have discovered that they now sit beneath suburban homes. (He describes it in the Project U show, give it a listen) Our Dinosaur Ditches were never as big as they seemed in our memories and like those perceptions, much is necessarily left there. We grow up, we move on.
In this way, Dinosaur Ditch is established as the childhood lost when confronting the "real world" tragedies that erode innocence.  Part of us ends up buried under a suburban home as well.
The "real world" is a town in Indiana: "Where the mercury-laced waters of Lake Michigan lap in the north", a place of industrial accidents, pollution, generations of plant workers, "where Red Cunningham lost his arm to the alligator machinery of industry." These were not terrible childhoods, this is acknowledged. There were jobs and families had some security, their needs were met. (pork chop dinners, etc.)
But skip to the present where the prospects are not as promising or predictable for this generation. The speaker in "Pt. I" considers himself both "blessed and trapped".  Ambivalence about comfort and familiarity, trapped at the same time. I think many can relate to that.
The character of towns across the US has been changing, many of the towns in that area have seen jobs leaving. The identities of both the town and the speaker are changing, uncertain.
He wakes up one day at thirty, wondering what to do now? He has labels on his forehead.  To some extent, this echoes the changing dynamics of these towns, their generations, many must also resign themselves to new labels.
The man at thirty remembers the bathroom in junior high, his last memory of the guy that got all of the lead parts in the play- stuck on a toilet. The truth of real living is that things are ugly and often come to an ugly end. (Morrison, Holly, Elvis in "Ebbis Pome", etc.) Childhood friends die, people age, work and family and homes can be at odds with our expectations.
Even domestic living seems quickly devoid of glamour, Hollywood shower scenes "At the very best they are a hilarious joke"- showering together when "your partner always hogs the side with the warm water". Life is all about the real, regular things like toenails and car keys. Respite in the bathroom is lost, he once again loses space, not the Ditch but his privacy, in their shared house.  ("Unicycle Built For Two"),
These are the things of normal living. Gas stations, feel good dinners, taking out trash, etc.
In between all of this, we think back to the questions in "The Ballad Of Blabbering Eddie": What do I do? How'd I get here? Why'd I get here?
And so it goes. Existential angst, yes, the sort that most people can relate to and can understand. Don't we all ask these questions? Don't we all take stock when somebody our age dies, unexpectedly? Aren't we all caught up in these "normal" everyday things, until something brings us to a screeching halt and we look around bewildered?
What do we do? Tim Murray's poems remind us that we can't escape our history, but nor does it necessarily bring us closer to an answer. Even if we follow the lead of our fathers, neighbors, the game can change. The expectations and certainties and paths that at one time seem so inevitable can be pulled out from under us and we can be tossed into new circumstances.
I found myself able to connect with the memory of the Dinosaur Ditch, the recollections took me back to my own where we spent hours away from the truth and routine of the adult lives. The Ditch was refuge, sanctuary, the place where those questions weren't haunting you yet. The Ditch is invincibility, the piss from the trees don't harm you. But once that is gone, it is gone and you can't go back. There you are stuck with the labels you try on, making sense of yourself, making sense of death, and making sense of the life around you.
Tim Murray's poems are funny, with snippets of silliness in between some tough subjects- murder, death, disease. He is able to dig deeper without taking his process so seriously that it translates as dry memoir, sentiment, nostalgia. He doesn't get political or directly into economics. He shares his details through characters, through the stories of people in the town.
"Dinosaur Ditch" can be ordered now at Citizens For Decent Literature Press here.