'Dinosaur Ditch' is a new chapbook of poetry from CFDL Press, available now, by Tim Murray. Discussed on the Literary Underground by Elynn Alexander.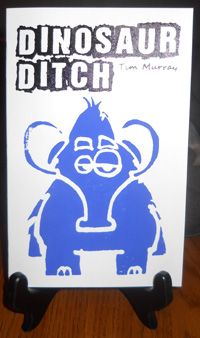 "Dinosaur Ditch" was the neighborhood lot of the speaker's childhood, a place where kids played and climbed trees and got away from their houses in a neutral, outdoor space.
"where boys spend summers pissing from trees
In Dinosaur Ditch."
Many kids can think back to a similar place in childhood and like Tim, have discovered that they now sit beneath suburban homes. (He describes it in the Project U show, give it a listen) Our Dinosaur Ditches were never as big as they seemed in our memories and like those perceptions, much is necessarily left there. We grow up, we move on.
In this way, Dinosaur Ditch is established as the childhood lost when confronting the "real world" tragedies that erode innocence.  Part of us ends up buried under a suburban home as well.
The "real world" is a town in Indiana: "Where the mercury-laced waters of Lake Michigan lap in the north", a place of industrial accidents, pollution, generations of plant workers, "where Red Cunningham lost his arm to the alligator machinery of industry." These were not terrible childhoods, this is acknowledged. There were jobs and families had some security, their needs were met. (pork chop dinners, etc.) Continue reading →
Please follow and like us: