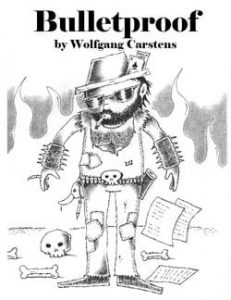 "Bulletproof" is the newest book of poetry by small press veteran Wolfgang Carstens, printed in 2017 by grey borders books and available now. Carstens is the frontman of Epic Rites Press, an unrepentent Canadian with front row seats to the latest American shit show. He has published many of the familiar poets we love at Crow: Zarina Zabrisky, Bill Gainer, John Dorsey, and more.
The first thing that you will notice is the art work on the front and back covers and interior by Epic Rites go-to artist Janne Karlsson who has rendered the poet in a cool ink punk comic style, with scattered bones as he's walking the tightrope of death. Dig that for a few minutes, then jump in.
Despite the whimsical tone, your heart will quickly get heavy.
Like here:
"my father spent / the last days / of his life / asking / to see / me
which / is ironic / because / I spent / the first years / of mine / asking / to see / him
"Bulletproof" is both funny and sober, approaching themes of death from many directions: regret, denial, defiance, inevitability. Carstens also focuses on the evolving way that people view death and regret during the lifespan, from taking life for granted to rethinking choices to accepting lost opportunities. The poems are at times tribute, at times lamentation. The poet has to reckon with death around him and the spectre of his own. Nobody is bullet-proof, after all:
in a drunken stupor,
clawing my way
across the floor
on my hands and knees
like a wounded animal,
i started thinking
about great exit lines-
something
worthy of a tombstone.
ultimately,
all I could come up with
was:
surely,
one more
won't kill
me
He touches on the inevitability, and the small negotiations with mortality. How "clean" do we want our lives to be, how many things do we forgo to gamble on bought time? Do we rationalize our choices in the name of living on our own terms, and will we regret it?
Even though there are lines and lines about human loss, the poem that hit that nerve for me was the poem about putting a dog to sleep: "when she slumped in my arms". Shit.
It reminds me that we can read poems, read lines, read about awful things- but certain lines, certain images can just stop us in our tracks- and damn if it didn't make me go hug the hell out of my dog and throw treats at her. You never know what will hit you, or why, and that is part of the experience of poetry. It happens like that- that wave- from some words on a page, something resonates. Certain things like this just stick and that is a powerful thing. You can't blame people for wanting to do it, right? Of course we argue that people NEED to be doing it.
Carstens is able to do this with brevity, saying a lot in a small space. This is one of the notable features of the poetry that I have read by him to date: succinct, choppy, but linked and cohesive taken together.
I agree with what Wayne F. Burke had to say about the book:
"In BULLETPROOF Wolfgang Carstens uses terse language of an exactitude unsparing inessentials to make a defiantly unsentimental last stand. Like a Daniel Boone of poetry—stoic yet capable of deep emotion—Carstens acknowledges brute existence, but does not give in to it, exults even, in his (and our) continuance, and with mordant wit, skewers vicissitude."
—Wayne F. Burke, Dickhead
And Magdalena Ball:
"BULLETPROOF is a short, punchy and powerful collection of poems. Carstens looks death in its blackest eye, with anger, sorrow, and humour, and emerges victorious."
—Magdalena Ball, The Compulsive Reader
"Short, punchy". Yes. If you are new to Wolfgang Carstens or Epic Rites Press, check out his site here.
Information about "Bulletproof":
BULLETPROOF

23 pages
Perfect bound
ISBN: 978-1-897180-80-8
​Grey Borders Books, 2017
www.greyborders.com
"What We're Reading", Full Of Crow Press, edited by Elynn Alexander.