"White Vases", John Swain. Discussed by Elynn Alexander for Full Of Crow Press.
Poets navigate with labels. It is just a part of the deal as people try to make sense of their associations and perhaps figure out their own sub-sects. What we find, however, is that poets surprise us and like all artists, poets evolve. We have to challenge ourselves to suspend the need to define one another because when we do, we stay open to a fuller catalog.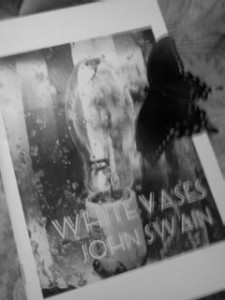 To put Swain's work into a box (nature) is to minimize what he is doing, what poets do, and doesn't speak to the question of WHY he brings up nature or birds or anything else. It ignores the scope of what he accomplishes, and constitutes a cherry picking of themes that is a common practice with poetry and poetic criticism, this pursuit of labels and categorization. It keeps the reader in periphery, and ultimately leads them away from "White Vases".
As a reader of John's work for years now, I would like to encourage people that read his work to resist the temptation to typecast him and to force associations. I hope that I can at least make the case for the rewards of digging deeper, as there are few poets on my radar that bring me to the point of study the way he does. The beauty of his writing makes me want to sit with his poems; their resonance makes me want to understand why they touch me. Their brevity fools me into thinking that they are simple and then I embark on an experience that becomes more layered with each read and with each book I find myself taking what he is willing to share and adding it to the experience of him, and when you have that relationship with a poet's work it is an appreciation that is difficult to convey.
I may lack the words to convince you, but I won't stop trying. Continue reading →