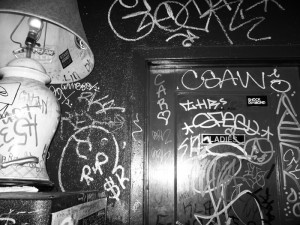 Full Of Crow Quarterly Fiction, July 2012
ISSN 2157-3530
"Ephesus"
"Man is on earth as in an egg." (Heraclitus)
Some say Ephesus was the birthplace of graffiti: a heart and a hand, love for payment. Regardless, this is a ladies room door in California. 
Thank you to the contributors and supporters of Full Of Crow Fiction, a quarterly collection of online fiction edited by Paul Corman-Roberts, produced by Lynn Alexander, Full Of Crow Press and Distro. Look for MiCrow Flash in a few weeks here.  And check us out on facebook for photos of our recent events in the bay area. You might see yourself.
Poems At The Cafe' Assisi……….Robert Eastwood
Duane Reade Blowout……….Jesus Acevedo Jr. 
Hidin' In The Shuga……….Linda Morgan Smith
The Boy From North Carolina……….Jenean McBrearty
Next issue of Full Of Crow Fiction: October 2012. Contact: fiction@fullofcrow.com
"A hidden connection is stronger than an obvious one." (Heraclitus)