About Full Of Crow Fiction
Full Of Crow Fiction is collected fiction presented in online quarterly issues.
Please note that Full Of Crow Fiction was on hiatus and submissions were closed for 2015. We apologize for the inconvenience. As of 2016, our submissions are open again for the April 2016 issue.
Full Of Crow Quarterly Fiction is diverse, eclectic in style, and features a broad range of contributors from published authors to emerging writers.
Current editors are Paul Corman-Roberts, Fiction and Events, and Elynn Alexander, Producing/Managing Editor and Poetry.
fiction@fullofcrow.com
ISSN 2157-3530
We are on facebook, twitter, all that shit, and we will love you back.
About "Full of Crow" and Independent Presses
Full of Crow is an independent online literary magazine of poetry and fiction, a virtual space for creative work.
We publish content on an ongoing basis, and accept rolling submissions: Poetry, fiction, flash, reviews, interviews, articles, art, photography, and more.
Please direct general inquiries to:
editors@fullofcrow.com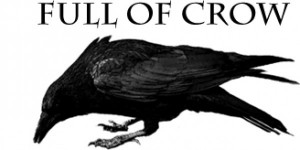 In supporting independent presses and distributors, you are making a decision to vote with your money about social priorities. We believe that small presses provide the means for important connections between writers and readers, and for members of creative communities to forge relationships and collectives that are self managed and promote the goals of the members as opposed to a system where there are goals imposed.
The editors of Full of Crow are active in a number of writing and art collectives, independent presses, arts advocacy organizations, and projects. We encourage and support the promotion of work by frequently marginalized writers and the under-represented. We encourage submissions from emerging writers as well as those with numerous publication credits.
We are looking for content that is bold and unapologetic, presented in thoughtful and purposeful ways. We like work that touches on the surreal, the mythic- enduring themes and images that are rooted in something deeply personal but connect to something transcending and universal. As many editors say, we know what it is when we see it.