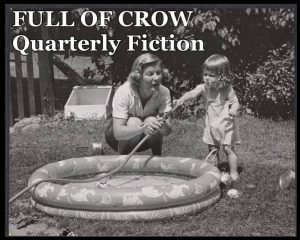 Contributors- Full Of Crow Fiction Quarterly
Full of Crow Quarterly Fiction
ISSN: 2157-3530
www.fullofcrow.com
Next Issue: April 2017 "Construct"
Submit: fiction@fullofcrow.com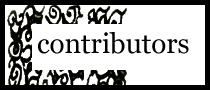 Fiction Editor: Paul Corman-Roberts
Winter 2017: Laura Zink, Barbara West, Richard Loranger, James H. Duncan, Sean Daly, Norma Smith, Christine No, Howard Brown, Ed Hayles, Allison Kade, Paul Rogalus, AE Reiff, Charles Joseph, Michael Mohr.
July 2016: Jan Steckel, Fernando Meisenhalter, Rusty Barnes, H.B. Rubin, Mark Antony Rossi, Ruth Crossman, G. David Schwartz, Alina Stefanescu, Nathan Graziano, Steven Gray, J DeSalvo, Victor Clevenger, Kristen Caven.
February 2014: Fernando Meisenhalter, Bud Smith, W.J.P. Newnham, Amber DiPietra, Na'amen Tilahun, Mather Schneider, Samantha Memi, Steven Gray,  Sean Taylor, Chloe N. Clark, Simon Friel
October 2013: Ken Poyner, Natalie Downey, AE Reiff, Karen Runge, C. Wait, Brehanna Ramirez, Jon Sindell
July 2013: Dawn Wilson, Sean Gill, Paul Beckman, Robert Vaughan, Mark Mizrahi, Linda Morgan Smith,Tracey Scott-Townsend, W.J.P. Newnham, George Sparling, Suzanne Conboy-Hill, Paul Beckman.
January 2013: Penelope Shimoyama-Spencer, Carol Smallwood, J.Spinazzola, Rena Rossner, James Claffey, Doug Mathewson, Samantha Memi, Mike Sauve, Erika D. Price, George Sparling, Miguel Lasala.
October 2012:  Vallie Lynn Watson, Prathiba Wilson, Ken Poyner, Nancy Christie, Bud Smith, Rebecca Bielikzick, Samantha Memi, Stephen Cooper, Jack Hill, Paul Tristram, Suzanne Conboy-Hill, Arif Khan.
July 2012: JC Piech , David Strong , Robert Eastwood , Jesus Acevedo Jr.  , Linda Morgan Smith , George Sparling , Jenean McBrearty , Bud Smith , Jacob Futhey
April 2012 Youssef Alaoui-Fdili , Catherine Roth , Jan Wiezorek , Jezebel Delilah X  , Missy Church , Stephanie Vernier , David Robbins , Lewis Gesner , James Hickson
 January 2012  Lily Mack, Kim Farleigh, Nicolette Wong, J. Spinazzola, , Christopher Krull, Heidi Heimler, Ken Poyner, Richard Fulco, Peter Schwartz
October 2011      Shawn Misener, Amy Glasenapp, Robert Kaye, Zarina Zabrisky, Sherri Collins, Richard Godwin, Rasmenia Massoud,  Allen Mendenhall, Suzanne Conboy-Hill,  Josh Goller,  Milla Van Der Have,  Stephen Mannion,  Edythe Wise, Joel Landfield, Ken Poyner.
July 2011: Iris Appelquist, Barry Basden, Kim Suhr, David Meuel, HK Rainey, Tom Stevens, Megan Willoughby, Kip Hanson, Barbara Hall, John S. Fields, Tres Crow, Edward Wells II, Edward J. Rathke.
April 2011: Doug Mathewson, Joel Landfield, Kim Farleigh, Valerie Nelan, Stan Long, Stacey Madden, Richard Godwin, Katie Moore, John Mullen, Leon Jackson Davenport, J. Michael Lambert
January 2011: Wendy Ashlee Coleman, July Westhale, Kevin Winter,AE Reiff, Stephanie Bryant Anderson, Killian Conor, Daniel W. Davis, Robert John Miller, Cynthia K. Marshall, Larry Strattner, Coyote Southbridge, James Hinkson, Kathy Ewing, Jeffrey McDonald, Neal Hultschulte, Mark James Andrews, Meg Tuite, Christopher Woods.

October 2010:Adam Moorad, Matthew C. Funk, Aimee DeLong, Kristi Peterson Schoonover, Nathan Wellman, David Cotrone, C.L. Bledsoe, Thomas Biel, Aleathia Drehmer, Paul Beckman, Ryan Kelly, Glen Binger, Ben Tanzer, Christina Murphy, Jeffrey Miller, Ian Tuttle, Sharanya Manavannan, Doug Mathewson.
July 2010: John Greiner (Featured), Christopher Allen, Andreas Sundgren, Richard Godwin, Jessica Knauss, Bernard S. Jansen, William Akin, Christopher Humphries, Andrew Bowen, Michael Romano.
April 2010: Robert Crisman (Featured), Forrest Aguirre, Verity Hill, Fiona McCashin, Gina Vinnitsky, Richard Godwin, John Craig, Pete Carter, Catfish McDaris, offbeatjim wittenberg, Yvonne Osborn, Mark Reep, Laura Bogart, Karen McKenzie, Larry Strattner, Stan Long, Tim Fenster, Nadya Primak, Andrew Dawson, John Rachel, Catherine Zickgraf, John H. Henry, Doug Mathewson, Casey Whitworth, Michael Solender, Gabriel Orgrease, Philip Gaber, Gail Taylor, Garrett Socol, Lachlan David, Erin Cole.
January 2010: Anna Caro, Aidan Ryan, Brian Ted Jones, Kenneth Janssen, Ben Drinan, Ilan Herman, Wayne Scheer, Mario Milosevic, xTx, David LaBounty, J.N. Thorpe, Sam Campbell, Timothy Schaekel, Kenneth M. Muise Jr., Kevin Keating, Alex Thornber.
October 2009: Jodi MacArthur (Featured), Peter Schwartz, Audree Flynn, Marc Lowe, Dimitra Andreadaki, Bill James, Michael Solender, Leon Jackson Davenport, Brent Powers, Pierrino Mascarino, Caleb J. Ross, Wayne W.H. Wolfson, Luis Rivas, Margaret Christi, Sal Buttaci, Digby Beaumont, Brian Bahr, Nathaniel Tower, Keith Rawson, Jason V. Brock, Justynn Tyme, Jeffrey S. Callico, Walter Conley, Ilan Herman, Devin Drover, M.E. Purfield, G. David Schwartz, Erin Cole, Bradley Mason Hamlin, Beto Palaio, Roberta Lawson, Rebecca Gaffron, Gabriel Orgrease, Paul Corman-Roberts, Mathias Nelson
July 2009: Michael Cuglietta, Jeff Lacy, Jeffrey S. Callico, Gabriel Ricard, Beto Palaio, Michael Solender, Angel Zapata
June 2009: Jason Michel, Janice Colman, Robb Todd, Stan Long, Hollie Loveless, Doug Mathewson, Arthur Chertowsky, Jaria Cecil Sowl, Steve Calamars
March, April,May 2009: These were the first issues of Full Of Crow Fiction, and we are particularly appreciative of the contributors who started this adventure with us:  Ben Nardolilli, Jack Swenson, Matthew Dexter, Sheldon Lee Compton, Mel Bosworth, Joseph Grant, Jarrid Deaton,  TR Healy, Lynn Alexander, Paul Corman-Roberts, Kristin Fouquet, Brent Powers, Jason Michel, M.E. Purfield, Doug Mathewson
We try to keep the information for our contributors as accurate as possible, and make timely updates when requested. In the regrettable case of errors, please let us know so we can correct the information. If you have any questions about web issues, corrections, additions, or concerns-please feel free to contact Lynn Alexander at lynnalexander@fullofcrow.com.