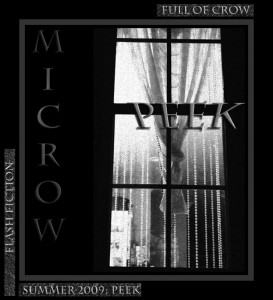 Photography from the very first Microw, "Peek", above- one of the images by Kristin Fouquet.

Contributors
Summer 2012: "Home"
Lynn Alexander Paul Beckman Cortney Bledsoe                       Jenny Bohatch               Samuel Cole                                                           Stephen Cooper                       Leon Jackson Davenport                  Cristina del Canto                      Ceilidh Devine                                     Aleathia Drehmer                              Kristin Fouquet  Leah Givens                                                                               Kate Marie Goff                                           Joseph Grant                           Linda Hofke                                       Claire Ibarra Rich Ives Tyrel Kessinger                        Len Kuntz                                Dorothee Lang                         Maude Larke                                      Paula Lietz           Doug Mathewson                    Afzal Moolla   Ellen Orner                                           Jennifer Polhemus                                                          James D. Quinton                                Brad Rose                                        Marjorie Sadin                                         Linda Simoni-Wastila  Gita Smith                                          Michael Dwayne Smith                                 Michael J. Solender                                     Eric Suhem                                         Nicolette Wong                        Christopher Woods        Angel Zapata                       
Winter 2012: "Transport"
Edited by Michael J. Solender for Full Of Crow.
The Winter issue of MiCrow is online, and we thank the following contributors for being a part of it:
Grace Andreacchi
Timothy Bearly
Gabriella Bensur
Steve Cartwright
Alex Chornyj
Samuel Cole
Aleathia Drehmer
Timothy Gager
Howie Good
Joseph Grant
Kawika Guillermo
Linda Evans Hofke
Dorothee Lang
Maude Larke
Doug Mathewson
Colleen McKee
Neila Mezynski
Mark Mitchell
George Moore
Matthew Muller
B. Z. Niditch
Mather Schneider
Gita Smith
Michael J. Solender
Eric Suhem
Andrew Topel
Linda Simoni-Wastila
Summer 2011: "Search"
Edited by Michael J. Solender
Paul Beckman, Heather Brager, Mike Handley, Nicolette Wong, Shea Newton, Chris Rhatigan, Jeffrey S. Callico, Lily Mack, Robert Vaughan, Tantra Bensko, Kathleen S. Allen, Susan Gibb, Donald Hagelberg, Semim Zahan, Phillip Tinkler, Jay Passer, Matthew Hance, Katie Moore, Jeanette Cheezum, William J. Fedigan, Ian C. Smith, Richard Godwin, Lola Nation, Madrea Marie, Natasha Cabot, Denny Sheehan, Doug Mathewson.
Winter 2010: "Void"
This issue was edited by Michael J. Solender and features: Susan Gibb, Jeffrey S. Callico, Chris Deal, Doug Mathewson, Howie Good, Michael Webb, Jason Warden, Timothy Gager, Nigel Bird, R.S. Bohn, Mike Robertson, Dorothee Lang, Laura Cummins, Randall Brown, Nabina Das, Sean Ulman, Paul Beckman, Ron Koppleberger, Jeffery Miller, Carol Maginn, James Tallett, Susan May, and Richard Godwin.
This issue also features images by Mike Handley, (cover) Lily Mulholland, Steve Wing, Dorothee Lang, and Nabina Das.
Summer 2010: "Street"
Joel Katanko, Joesph Grant, Alexandra Isacson, Jesse Bradley, Mark Reep, Kellan McCall, Ashley Vemuri, Bryan Jones, Robert Vaughan, David Massengill.
Winter, 2009:"Half"
Jessamyn Johnston, Amy Wiggins, Kristin Fouquet, Lynn Kinsey, Sarah R. Bloom, Richard Godwin, Len Kuntz, Lucian Stanculescu, Christoffer Habter, Michael J. Solender, Chad Redden, Wayne Scheer, Tomas Moniz, Andrew Bowen, Matt Mok, Susan Gee, William Lange, Louise Norlie, Tres Crow, Paul D. Braqzill, Miss Allister.
Summer 2009: "Peek"
polycarp kusch, Caleb J. Ross, Ajay Vishwanathan, Brent Powers, Mel Bosworth, Paul Corman-Roberts, Eric Suhem, Spencer Livingston, Michael Solender, Jim Wittenberg, Allen Masterson, Stan Long, Gabriel Orgrease, Jason Michel, Kristin Fouquet, xTx, David E. Oprava, Jason Neese, Doug Mathewson, Beto Palaio, Cheryl Townsend, Ty Gorton, M.E. Purfield, Gabriel Ricard, Eugenia Hepworth Petty, Turbu, Grant Loveys, Mike Whitney, Tom Hamilton, Aleathia Drehmer.