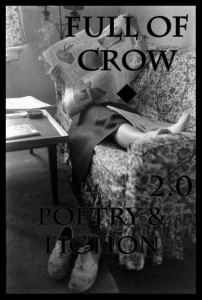 Full Of Crow Poetry, the quarterly online poetry publication of Full Of Crow Press, is open for poetry submissions. We are looking to have a new issue online in April, and then return to the quarterly schedule of July, October, January, and April.
Full of Crow Poetry- Web
ISSN 2157-3549
About Full Of Crow Poetry
Full of Crow Poetry is currently edited by Elynn Alexander.
**** If you submitted or inquired and did not receive a response, please get in touch as our system was closed during our hiatus. We apologize for the inconvenience.
Correspondence can be directed to: poetry@fullofcrow.com.
We do our best to promote the poets on social media. Please follow us and help us reach others on facebook, twitter, etc.
For more information: