Updated: July 30, 2017
Currently accepting submissions of poetry for Full Of Crow's Quarterly Poetry issues. We welcome emerging and experienced poets and we prefer an eclectic mix of styles in our issues. We want our spaces to reflect the diversity of our community.
We prefer to keep things simple: one or two poems, simple formatting, optional third person bio, in the body of your email. 
For previously published work: That is cool, if it is cool with the original publication. We ask that you provide the previous publisher so we can include a credit as a courtesy. We also ask that you do the same for us in the future. Your mention helps us connect with new poets, which helps us be more inclusive. We like to hear about how you found us. We also like to hear about what you are doing, if we can find you on social media or YouTube, etc. Help us get to know you.
Follow us on Twitter , Instagram, and Facebook and subscribe to our blog through Networked Blogs. Thank you!
These guidelines pertain to Full Of Crow Poetry, only. Other sections have their own guidelines.
Poetry Submissions: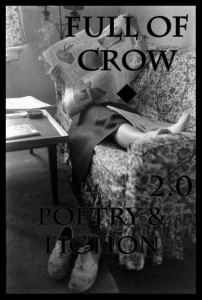 For poetry: Elynn Alexander, at poetry@fullofcrow.com
*We prefer poems in the body of an email, with a third person bio if you choose to include it.
*We often wait until we are ready to post the next issue before we get in touch because we want to be fair to all of the submissions. What we choose to include is less influenced by timing that way, so we are just as open to the 100th poem sent as the first. Please understand that this practice extends the wait time. We decide from the entire pool of what is available, and we could not do that if we had a faster turnaround.
Please consider sending poems with simple spacing, so they look better on different browsers, phones, tablets, etc.
*Please indicate that the submission is for Full of Crow Poetry, and make note of any name preferences. A third person bio is optional. If you include it, it will be added after the poems on your page. If you do not include one, that is fine.
*We are a volunteer-run venture. Nobody makes money. We wish we did and we could all share it. That would be cool.
* Rights belong to the contributors.
*Additional materials can be sent to Elynn Alexander (Lynn):  poetry@fullofcrow.com.