Please follow and like us:
Full Of Crow welcomes Serena M. Wilcox: Metamorphic Winters: A Review of Confessions by Marcus Reichert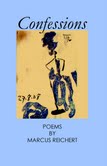 Have you ever experienced a prolonged dark night of the soul? Numbness is your meat and silence is the only form of desired communication. In Reichert's latest book Confessions, he directs the reader like an old sage through chilling moments of despair and confusion to inner chambers of heat and illumination.
Now the cold towel
comes down on
the forehead and
our thoughts retreat
into the shadows
as we are subdued
by the beauty that
once consumed us.
Are we ever alone in absence? As one turns the pages of Reichert's book, it is like shedding sleeves of selves until one can connect with the purity we once possessed as children; manifesting the superior intellect we were given from another world before we knew our mortality.
When we can no longer remember
our life unfolding with any vitality,
no beauty known beyond our own
deterioration, adrift in a static sea
of compliant malignancy, yearning
for the shifting detritus of summer
to smother the forest's pristine floor,
we are flowers burst into useless flame
upon the bed in which we were born.
Marcus invites his readers to join him under the covers, to explore his life and walk with him as he graphically depicts what beauty looks like in eternity. His words are wool, thick with the aroma of war and rest. Everyone should be reading Reichert.
CONFESSIONS: POEMS BY MARCUS REICHERT
"Reichert offers us a Heracleitean stream of self-reflection into which we can step
more than once, for we can see ourselves empathically mirrored in it: his interiority
is our own." — Donald Kuspit, Art Critic & Poet
"There is no glamour, no romance, no heroism. These poems are true reflections
captured in the looking glass of one who lives day to day, at the mercy of the events
that unfold beyond his control. They are a testament to a life lived." — Piers Faccini,
Songwriter & Poet
Confessions: Poems by Marcus Reichert
by Marcus Reichert
Introdutcion
by Donald Kuspit
ISBN 9780956657916
71 Pages
With cover painting and six black and white drawings by Marcus Reichert
Paperback 20 x 13 cms
£7.95
Available on-line in multiple currencies from The Book Depository
Orders from Central Books Ltd., London:
orders@centralbooks.com
Press enquiries, Ziggurat Books International, London & Paris:
zigguratbooks@orange.fr