Please follow and like us: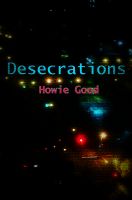 Desecrations, by Howie Good.  Discussed by Elynn Alexander for Crow Reviews, part of Full Of Crow Press. Desecrations was published by Fowlpox Press in 2012, with design and cover by Virgil Kay. ISBN 978-0-9881088-2-0. www.fowlpox.tk
"Everyone felt exiled from everyone else." (RSVP)
The poet begins with distinctions, people and things apart, alienation from minor to extreme degrees. The poet observes, even as he is aware of his own separation:
"I looked for the house while also trying to watch the road."
The idea of safety, security, refuge- is a myth. All are subject to the whims of injury or accident, to life cut short, sometimes by our own hands, sometimes by fate. Death is a character that walks the beach, fate escaped or embraced. Death slips in and takes, like "the noise of a gunshot in a silent film." (Love At Sixty)
Death becomes a bird, present in many of the poems, first dead without blood or clues, silent. In "Prosthetic Dreams", the bird visits holding a playing card. The red markings become discernible as blood, his presence changes from benign to alarming, peripheral to acute.
"The shock wakes me up."
This line really stops the reader, along with the speaker. Death, fate, choice, life is full of decisions and their consequences are difficult to fathom. Good shifts from apart to the interconnected, lives as overlapping layers, with mingled outcomes often hinged on one another. He reminds us that we are all in a position, in different ways, to influence outcomes: the wrong pills by mistake, pressing "send". (The Predicament of Aftermath, Strange Roads)
In "Voyage To The First Of December", we see the power of control on a larger scale, beyond individuals, to "the shaved heads of inmates or raw recruits."
"Every day ended in an ellipses… and began with a midnight movie on t.v. about a failed plot to kill Hitler."
So many events can alter the course of a life, or many lives, and Good reckons with this in his poems that bear the heavy weight of not only the awareness of mortality but the precarious nature of life. These are poems of somber maturity, realizations from observations and from years of life, lived.
"God has a big eraser." (The Blue Hour)
The poet considers salvation, unable- like most- to intervene. The slimy blind babies remain in the garden, the bird pecks at his conscience. (Suspicion, Waking Up To Recovery)
"When did mercy become another thing to especially avoid?" (Apocalypse Tango)
"We're like the ships of Odysseus, my Lit professor said, always being blown off course. Or maybe I just imagined it, preferring the emptiness smoldering underneath everything. We've all lost things. We've all had things taken. And not only things. A roommate with wrists emphatically slit."
(Monkeys With Typewriters)
Like the monkey banging on a typewriter, you never know what you will end up with. Many lives are like that- destiny can bring great things and ordinary things, and things that seem part of the pool of human experience without incident. How much influence do we have, how much is chance, how often is an exceptional life the product of being in the right place at the right time? How much tragedy is of our own making, are we victims or participants?
Nature is random, tragedy is random. Humans are hard pressed to do anything about it. Even the suffering that brings those to assert control, to determine the hour of death, is placed without prejudice, opportunity given to all.
These poems are dark, absolutely dark, and Good handles despair with an objective eye, for some it is too much. Some succumb. Some are pushed. Some are lucky.
This is available as a free download, and features some of the best poems that I have read by Howie Good. If you are new to his poetry, start here. The collection is cohesive and connected, and placed well. You can find it here on Smashwords: "Desecrations".