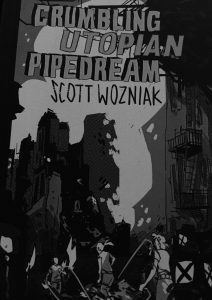 Scott Wozniak's new poetry collection from Moran Press is described by Hosho McCreesh as "lost, ugly, and broken-down", poems that are "covered in their own holy filth."
I'm in, so I keep reading:
I was an artist
and felonies
my canvas.

There you go, right out of the gate.
Rob Plath calls Wozniak's work "authentic outlaw poetry". I admit that I have a soft spot for that, because I don't have to look very far to read "tidy and proper".That shit's everywhere.
What I want is the truth, the ugly, the disgusting, the dysfunctional. I want poems that reflect life the way life is, and I think Wozniak hangs out in that place enough to spill some secrets.
The term "outlaw" is thrown around often, like a badass badge. But it has to be about more than posturing, and it has to be about more than persona. It has to convey something beyond the questioning of authority to the living of a life beyond that shadow. The poetry has to have some variation of going to hell, right? (Hellraising Intellect) Of being damned, condemned, of prices paid, and carrying on anyway?
Grit and candor are part of it. It would be easy to think about commonalities among outlaw poets, looking for typical themes and confessional rebellion and you would find them. But you would also find a street style and language that spares the reader the gagging perfume but finds a way to keep the musk.
Outlaw poetry is a dirty body on clean sheets.
It draws you in because it feels real, it has a pulse. Wozniak's short lines are that pulse, typically 2-3 words each, you are paced and pulled along as the poet reflects on dysfunctional vignettes without apologies. "The world is brutal, and there's nothing you can do to change this." (Down The Chambers of Madness)
The poet is broken in a world that is broken, trying to survive and get to the next hustle.
My sign read.
"I smell,
I'm broke,
everybody
hates me.
I just want
to get drunk
and high,
spare a dime?" (Family Values Paying Off)
The poems involve deliberation between exposing and turning away : "should we hide them or pull the covers from them?" (Uniqueness is Fatal) "Dig deep enough and you'll find a rotting corpse" (In The Hole, Boss)
Why examine? The poet talks about pieces, brokenness, parts that need to be glued or cobbled back together… is redemption possible? He doesn't want to hear from people who imagine what it is like, with the privilege of hope. He wants to hear from people who have been to that edge and have made it back, without any nets and without a reason to hope- not a triumph of the reassured but the perseverance of the damned. It isn't rock bottom until it is rock bottom, and no- you don't know what it's like. If you haven't lost your friends to it and yourself to it, it isn't your story. We are here to pull up a chair.
"Let's overcome
circumstances,
demons,
destruction,
chaos,
the detriment.
Let's build
the craziest
dream
we can think."
(So Many Choices, So Little Time)
What would the dream look like? The "even keel", or the "great stories of insane moments"?
Calm is hell, chaos is hell, recovery is hell, disease is hell, but do we want to get better? What does better look like? Better isn't the dream. Better is another side of the death coin. Tails, you still lose.
Moran Press has more titles in their catalog, available through Amazon. You can check out their authors here. This book, Crumbling Utopian Pipedream, can be purchased here:
"Scott Wozniak's "Crumbling Utopian Pipedream," is a book of poems born of the streets. It unflinchingly celebrates gritty realism while detailing some of life's hard won battles, and continually urges the reader to face the obstacles life puts in our way, and to realize that we have the strength to overcome any and all hardships."
Scott Wozniak is a contributor in the Summer 2017 issue of Full of Crow Poetry, and you can check out his poems here.

Elynn Alexander posts here about what she's reading, usually in the small press/alternative world. She is the founding editor of Full of Crow Press and Distro.