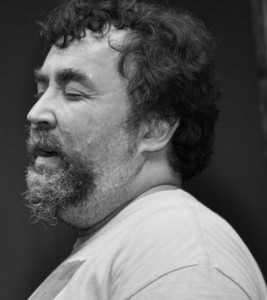 Michael Grover is a Toledo-based poet, activist, and editor. He is the head poetry editor at Red Fez and author of the recently released chapbook "American Eyes", which I just finished reading prior to this interview. It's a great collection of poems, and I find Michael's unapologetic attitude about political poetry to be refreshing and bold. He is willing to write what he sees, and say what he thinks. He seemed like a good choice to kick off the new series here at PRATE. -Lynn Alexander
LA: Tell us about what you are doing right now: your poetry, new books, upcoming projects, editing roles, reading series- tell us a little bit about where you are at right now.
MDG: I have a new book coming out sometime next year on Tainted Coffee Press called "A Shotgun Does The Trick". I'm really proud of that. It's my first book. I have a new chapbook coming out on CFDL press in February. It's called "Some People Go Crazy". It's about a bad relationship I recently went through. The woman just drowned in her problems literally. There was nothing I could do. I've got a huge poem that I've been working on for three years now. It's called "Confessions Of An american Outlaw". It's up to number two eighty something right now. I really do feel that is my best and most defining work. Once the book comes out, I plan on looking into getting that published as a whole. It's just the Poem that never ends. It will follow me to the grave.
As far as editing goes, I am the current head Poetry editor of Red Fez. I have been for over two years now. A couple of months ago my friend Matt and I were lamenting at his kitchen table the death of yet another print Poetry zine. I used to do a punk zine, so I told him we could do a print zine ourselves. That night Mixolydian Blues was born. Matt came up with the name. It has something to do with the Beatles. I don't know, I hate The Beatles. Always have. I just let him name it. We are having a launch for that at the open mic at The Black Kite in January.
Which brings me to the reading series at The Black Kite. Pretty much I had been hosting readings here at the Collingwood Arts Center for four years and that changed. Suddenly I was on the outside politically and no one would tell me why. It was a tough time, I had put everything into this place. Suddenly then from out of nowhere, this coffee shop opens up right on the corner in this ghetto assed neighborhood that has nothing but churches. It was actually a really cool coffee shop. It was like a sign that it should be my next move. So I talked to the owner about doing a reading once a month. She was not crazy about the idea but said we could try it out. By the end of the first reading she was begging to do it twice a month. So now I host an open mic on the first Monday, and features and an open mic on the third. It's going great. We have our first out of state feature coming in February, it's Michele McDannold. She was in town for one night and we went there that morning for breakfast and she decided she had to feature there. She fell in love with the place, which is not hard to do. The reading is evolving. Last night we streamed it on U-Stream for the first time. It's exciting and Toledo needs the culture.
LA: Do you, as a poet, identify with any particular label or "school" of poetry? Who are your influences?

MDG: I am in a weird state right now where my influences are changing. I did the "outlaw" thing for over ten years and took it about as far as I could go. Last year someone recommended that I read Jack Spicer, and I did. My mind was blown. I had forgotten what it felt like it had been so long. I began to realize there were academics out there that were writing good honest Poetry, a lot of it was stream of conscience. They were challenging and breaking the rules of academia. Since then I've found a few more writers that are like that. Kathleen Ossip, I love her work. I just picked up Anselm Berrigan for the first time last night. Love it. Poetry is different and exciting for me again. I'm like a kid in a playground.

LA: Do you think that people are resistant to "political" poetry, and do you see arguments for and against it out there? What are your views? Some say that poets can and should use their voices to raise issues and concerns, that art has a role in this process, and in informing a culture. Some say that poetry should not have such goals, and that poets should steer clear of that territory and avoid causes, politics, positions, and write about neutral subjects and avoid being "preachy". In your work and circles, do you participate in such discussions and where do you stand?

MDG: This is what I have found. Perhaps some people have found different. But from my experience people hate political Poetry. Even other Poets. I have even tried to tell myself it's senseless to write it, but it just keeps coming out naturally. It is just so engrained in who I am. My father was a socialist union electrician. He's retired now and living the life in Saint Petersberg, Florida. But all my life I was raised to be a socialist. I don't think there are a lot of Americans that could say that. I'm still a socialist to this day.
I protested stuff for years. I did. I was out in the streets marching, fighting with the cops. I got too old for that shit. Now I guess Poetry is my form of protest. Is it enough? I ask myself sometimes. But honestly it is all I have to offer now. It's tough to get old. I used to have this mentor in L.A. Thome Selby. He was my dad's age. When the two thousand DNC came around I asked him why he was not getting out there. He told me, "When I see something really happening, I'll get out there." I never really understood what he said until now.
Political discussions, I mostly avoid them. There is a republican here in the building that keeps trying to engage me. I don't need to argue and get all worked up. That's not me anymore.

LA: I would characterize your poetry book "American Eyes" as political. In poem ten:
Eyes that see injustice
have to write it down
to call it out
You write about not wanting to be "blind". Do you think that poetry is a form of activism for you?

MDG: As I stated, I feel Poetry is the only form of protest I have left. americanEyes just poured out of me. It was totally natural. I appreciate the fact that Leah was willing to do it. I had read other stuff on Propaganda like Doug Draime and Hosho McCreesh and it was a great honor. Unfortunately it was political and it did not sell that well.
LA: How would you describe your objectives as a poetry editor? What do you look for?

MDG: I just look for something that moves me. That's all I really look for. Just about every magazine out there right now functions on cronyism. I just want to base things on natural ability.

LA: What made you want to be a poetry editor at Red Fez? Has that role changed for you over the years? 
MDG: I just saw Michele post something about taking applications for a head Poetry editor and I sent her an e-mail. I never really expected to get the job. She asked me a few questions I guess it was like an interview. I was shocked when she told me I had the job.
LA: I recall your participation in Poets For Human Rights, and I believe that that was where I first came across you. Do certain people stand out as organizers? Who do you admire for their work, and why? Who are today's poetry activists?

MDG: Wow, that was a long time ago. I think I was involved with that because of John G. Hall over in England. We used to be really good friends.
As organizers? First I'd say Larry Jaffe. I used to go to his reading in L.A., he gave me my first feature. He also took me aside and taught me how organize a reading. Amiri Baraka has always been one of my favorite Poets, and I do look at him as an activist. I had the pleasure of seeing him perform, and meeting him once in Philly. That was just an awesome experience.

LA: What are your goals, with your work, in the next few years?
MDG: As I said, Confessions Of An american Outlaw. I would like to get that out there. I guess that's my main goal for the future. I can only hope to continue to work, and write. It's been a strange trip. I've met some great people along the way. Some not so great. But it really has been a pleasure and I can't wait to see what the future brings.

LA: What made you want to be an organizer of a reading series, like Black Kite? Is it different from other readings? What is your mission?

MDG: As I said over ten years ago in L.A. Larry Jaffe pulled me aside and taught me how to organize a reading and made me his co-host. From there I have lived in three different places and hosted readings in each one. Toledo is different though. It's been forgotten by most of the country and it really needs the culture badly. I guess that's my mission. To bring it.